Hummingbirds!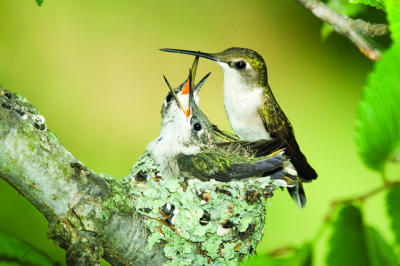 Frequently Asked Questions
When should I put out my Hummingbird Feeder?
We recommend putting your feeder out by April 15th (tax day). That way it will be ready for the earliest migrants that really need the food when flowers may be scarce. There are web sites where people report their first sighting of the year of each Hummingbird species. You can follow their northerly migratory progress day by day. One site is called hummingbirds.net
What is the recipe for making Hummingbird Nectar?
You can make your own hummingbird nectar using a simple ratio of one to four.
1 Cup Sugar to 4 Cups Water
Bring the mixture to just boiling in order to kill any germs and to help the sugar dissolve better. You can store the unused portion in the refrigerator. Simply bring it up to room temperature before putting the mixture out for hungry birds.
Do not use any food coloring, preservatives, flavorings or sugar substitutes. These additives could be harmful to the birds. Do not use raw sugar, confectionery sugar or other than simple table sugar. Do not try to make it extra sweet since the birds need the liquid part of the nectar as well as the sugar part.
How often should I change the Nectar?
You should clean your hummingbird feeder and put fresh nectar in every two or three days. In the real heat of the summer it may need to be changed every day. The extra heat causes the sugar solution to ferment like wine and the birds will not drink it.
What else do hummingbirds eat?
Hummingbirds also consume tiny insects which they catch in mid-air. This of course is not something that people can supply easily. Note that the use of insecticides may negatively impact your abliity to attract hummingbirds to your yard.
Do I need to have flowers to attract a hummingbird?
It helps to have flowers that hummingbirds like to entice them into your yard. Below is a list of common backyard and hanging plants to which the birds are attracted. They are particularly attracted to red tubular-shaped flowers but will go to many other varieties for their nectar.
Do we ever have any other hummingbird species in the Northeast besides the Ruby-throated?
Rarely. If the bird does not look like a graphic or picture in a book it is usually because of the lighting and the age of the bird. Only the adult male Ruby-throated Hummingbirds have the red gorget (throat patch). The females and young of both sexes have a light colored throat. Because iredescent feathers scatter light they may appear a darker color than they really are. Don't be fooled by a bird with a yellow color to its head and neck. Pollen is yellow and these birds are doing what nature intended - carrying the pollen from flower to flower.
Should I stop feeding my Hummingbirds so they will migrate?
No. Your Hummingbirds will migrate when they are ready and food will not hold them back. Keep your feeders out so the birds can fatten up for their long journey south. Our Ruby-throated Hummingbird migrates sometimes all the way to South America. You may also help out the birds that are migrating through and just need a pit stop.
When should I take in my Hummingbird Feeder?
Immature Hummingbirds from more northerly areas can really use a helping hand! There may not be many who find your yard but for one it could be a critical stop over especially if their migration route takes them through areas with storms and droughts. It is usually safe to leave the feeder out about 2 weeks after your regular diners stop coming some time in September.
Plants and Flowers that attract hummingbirds:
Flowers

Bee Balm

Bleeding Heart

Cardinal Flower

Columbine

Coralbells

Foxglove

Fuschia

Impatiens

Jewelweed

Phlox

Vines, shrubs and trees

Butterfly Bush

Crab Apple

Flowering Quince

Lilac

Morning Glory

Trumpet Creeper

Trumpet Honeysuckle
More information on Hummingbirds
More information on hummingbirds