Feeling like you are suffering from empty nest since our Owls fledged? We have a treat for you!
The Owl box with the nest cam was empty and not being used so a mother raccoon decided it would be a nice safe place to raise the kids. So the nest cam is now Raccoon Cam! Click here to see the Raccoon family Live
During the hot and often dry conditions that make up the "dog days of summer," you will be doing yourself and your birds a big favor by providing them with a reliable source of water.
Water is very important to birds. Whether they are feeder visitors or not, birds need water. Offering a dependable source of water is probably the simplest and most important step you can take to greatly increase the variety of birds in your yard.
It can also significantly increase your enjoyment of your birds by allowing you to watch their often comical antics as they drink, bathe and preen.
However, as entertaining as it is for us, water (or the lack thereof) can be deadly serious for birds. Birds must be ready to fly at all times, and bathing is a critical part of feather maintenance and staying in top-flight condition.
Water is also vitally important when it's extremely hot and a bird's ability to regulate its body temperature can become stressed. Birds do not sweat and must remove excess body heat through their respiratory system. So when temperatures rise, a bird's respiration rate increases, sometimes to the point that it can be seen panting like a dog. This activity dehydrates birds and increases their need for a reliable source of water to replace lost fluids.
So, while the addition of a bird bath, fountain or mister to your yard can supply hours of enjoyable bird watching entertainment for you, it may also be providing a lifesaving necessity.
How to Attract Birds with Water
Young Bird Fledglings Experience Life Away from the Nest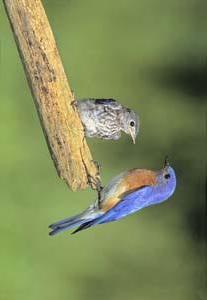 This summer, parents across the country will spend countless hours with their children, taking them to places they've never seen before. The same can be said for the millions of wild bird families that will be introducing their young fledglings to a whole new world of experiences.
People who only feed the birds during the winter will miss out on many fun and fascinating wild bird "family life" activities. Full feeders provide an opportunity to see adult birds as they take some time away from the duties of raising their young.
By mid-summer, fledglings will begin leaving the nest and are being fed and taught to eat from feeders by their parents, a fascinating interaction to observe.
Fledgling Facts
Here are some characteristics and behaviors to look for when watching these baby birds as they begin to leave the nest:
Fledglings are about the same size as adults, but often their plumage color is muted and similar to adult females.
In some species, fledglings' tails are shorter than the adults', because the tail feathers are still growing.
You can recognize Downy and other woodpecker fledglings by their fresh and dapper plumage, whereas that of the adults is worn and dusky from their repeated trips in and out of the nest hole.
Chickadee fledglings follow their parents to the bird feeder and perch nearby as the parents go to get food. They either wait, looking like they are waiting to be served, or they call incessantly "teeship teeship" and flutter their wings until fed.
After one to three weeks, the parents stop feeding their fledglings and may even peck at them if they persist in begging for food to get them to feed themselves.
It's a perfect time to see a lot of interesting bird activity. In some instances, bird family behaviors resemble human family behaviors.

NEW ITEM!
Set up your bird feeders quickly and easily off of your deck with our new APS Basic Deck Mounting Hardware Kit. See the video
SAVE 15% on all bird food! SAVE an extra 5% during bird seed sales! Earn Bird bucks Coupons to be spent on anything in the store. Receive Daily Savings Club Member Specials!
Go to the DSC information page to learn more or stop by the store and learn how you can start saving more on Bird Food.

Gift Card Balance Check
A Wild Birds Unlimited Gift Card is the perfect gift for every occasion! If you need to check the balance on your Wild Birds Unlimited Gift Card,
LIKE us on Facebook