Feeling like you are suffering from empty nest since our Owls fledged? We have a treat for you!
The Owl box with the nest cam was empty and not being used so a mother raccoon decided it would be a nice safe place to raise the kids. So the nest cam is now Raccoon Cam! Click here to see the Raccoon family Live
Earn Double Points!

21st thru 30th, 2015
We want to thank you for all you have done for our store and the birds.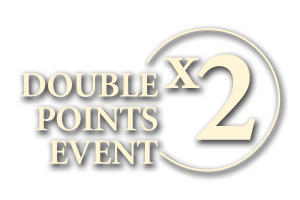 During the 21st to 30th of August, Daily Savings Club® members earn Double Points with every purchase. That means you reach 200 points faster and earn a $10 Bird Buck, good for a future purchase of any merchandise in the store.
No minimum purchase required to receive Double Points, and only Daily Savings Club members can enjoy this special offer.
Not a DSC member? Join now to take advantage of this special member-only offer.

NEW ITEM!
Set up your bird feeders quickly and easily off of your deck with our new APS Basic Deck Mounting Hardware Kit. See the video
Daily Savings Club: The Next Great Thing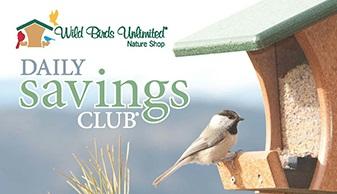 Dear Friend of Nature,
Sliced bread. It regularly receives accolades as being the last greatest thing.
Not the Internet. Not the automobile.
Nope, sliced bread beats them all.
Well, fortunately, we've discovered something that rivals the greatness of sliced bread. It's called the Daily Savings Club®, and it allows you to save every day on the best birdfood in town.
For an annual membership fee of only $25, you'll receive 15% off regular, every day bird and wildlife food prices and an additional 5% off sale prices of bird and wildlife food at the Wild Birds Unlimited store of purchase.
So as prices rise around us all, you're guaranteed to get the best price on the best birdfood in town - every day. Now that's a great deal.
And by joining the Daily Savings Club, you'll get a $10 Bird Buck for every $200 dollars you spend on any merchandise in the store.
You'll also be rewarded with a FREE gift as well as Club-member-only specials.
So take a seat sliced bread.
There's a new "greatest thing" in town. And it's only happening at Wild Birds Unlimited.
Stop by the store this month for all of your nature needs and be sure to ask us about joining the Daily Savings Club. You and your birds will be glad that you did.
Gift Card Balance Check
A Wild Birds Unlimited Gift Card is the perfect gift for every occasion! If you need to check the balance on your Wild Birds Unlimited Gift Card,
LIKE us on Facebook