How to Help Birds Survive Cold Weather
Typically, your feeders serve as a supplemental food source for birds. In contrast, during periods of extreme cold and severe winter weather, your birds may switch to utilizing your feeders as a critical source of food that enables them to survive from day to day. So make sure your foods are worth their weight with quality high-calorie, fatty foods for the birds.
You can play a vital role, as feeding the birds becomes critical when extremely cold conditions occur. At these times, a reliable supply of energy-heavy food can mean the difference between life and death for a bird. To stay warm, birds will expend energy very quickly, some losing up to 10% of their body weight on extremely cold nights. Food is the most essential element, providing birds with the energy, stamina and nutrition they need. An ample supply of high-calorie foods such as suet, Bark Butter, sunflower, Nyjer and more is crucial to a bird's survival.
Suet as well as Jim's Birdacious Bark Butter® and Bark Butter Bits are full of essential fat and protein helping birds, such as woodpeckers, chickadees, nuthatches, titmice, wrens and others, maintain their high metabolic rate.
Nyjer and Finch Blend are high in fat and protein, and they are a favorite of goldfinches, Pine Siskin and Purple and House Finches.
Our Deluxe Blend is loaded with sunflower and safflower seeds and millet. Millet is high in carbohydrates and is especially good for attracting ground-feeding birds, such as native sparrows, juncos, towhees, quail and doves.
Bird food cylinders are a win-win for you and your birds. Cylinders, like No-Mess and Nutty for Nuts, are long-lasting allowing you fewer trips to fill the feeder. They are packed with high-calorie peanut, tree nut and sunflower energy to help the birds stay warmer. There are no shells, providing a quick energy snack for birds and no mess for you.
So in order to meet your birds' needs, it is important to have at least one foundational feeder that dependably provides food every day and does not have to be filled very often. Studies have demonstrated that a constant, and reliable source of supplemental food helps to improve the overall health and body condition of wild birds.
Help your birds know your food is worth the weight by locating your foundational feeder in a sheltered location out of the wind and keep it full of the high-calorie, fatty foods that provide birds the crucial nutrition they need to survive and thrive even during the coldest times of the year.
Stop by our store for more expert advice and quality foods that are worth the weight to help your birds thrive this winter.
Help Your Birds Survive Extreme Winter Weather

Finally! A Squirrel You'll Welcome at Your Bird Feeder
Available only at Wild Birds Unlimited, Peanut the Squirrel Seed Cylinder is a whimsical addition to any backyard bird feeding station. It's made from some of your birds' favorite foods including nuts, sunflower chips, millet and fruit.
Peanut the Squirrel is the newest addition to the fun Seed Cylinders we offer. Stop by our store to meet our other "seedy characters." They can help you attract many of your favorite birds, including chickadees, woodpeckers and goldfinches.
Join the Daily Savings Club! You will get an extra 5% over the Sale price on food items and it only takes 200 points to get $10.00!

The Benefits from the Wild Birds Unlimited Daily Savings Club
Receive 15% off regular, every day bird and wildlife food prices and an additional 5% off sale prices of bird and wildlife food at the Wild Birds Unlimited store of purchase.
Get a $10 Bird Buck for every $200 dollars you spend on any merchandise in the store.
You'll also be rewarded with a FREE gift as well as Club-member-only specials.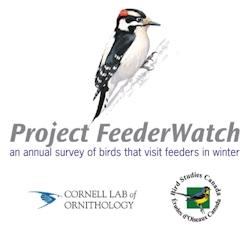 Project FeederWatch
Project FeederWatch is a joint research and education project of the Cornell Lab or Ornithology and Bird Studies Canada. From November through early April, FeederWatchers periodically count the birds they see at their feeders and send their counts to Project FeederWatch. The data collected help scientists track the movements of winter bird populations and monitor trends in bird distribution and abundance.
Wild Birds Unlimited is a proud sponsor of Project FeederWatch.
Gift Cards Make the Perfect Gift!


Gift Card Balance Check

A Wild Birds Unlimited Gift Card is the perfect gift for every occasion! If you need to check the balance on your Wild Birds Unlimited Gift Card,
Like our local store on facebook or Twitter!