Whether you're preparing for the Great Backyard Bird Count or just want to see more birds, we have a variety of the best seed blends and suet in town! Our seed blends:
are chosen by your local expert
are formulated to care for your birds.
contain no cereal fillers – just seeds your birds love.
Our suet and no-melt suet dough contain high-quality ingredients and make every trip to the feeder count.
SAVE NOW on 20 lb. Bags of Bird Seed & Suet (Now thru 2/22/16)*
*Valid only at the participating store(s) listed. One discount per purchase. Offer not valid on previous purchases or sale items. Offer expires 2/21/16.
Congratulations to our January Feeder Give away! There were 474 Whole Peanuts in the feeder. the winner is Jacqui who guessed 475- almost an exact count!
Almost 300 entries! Counts were all over the board from under one hundred to over one thousand. Forty entries were in the 400's. Many people underestimated. Think more next time!
Celebrate National Bird Feeding Month in February

Cupid isn't the only winged object that people need to watch out for this month. In 1994, the United States Congress proclaimed February to be National Bird Feeding Month.
Backyard bird feeding is enjoyed by over 52 million North Americans. And while February is National Wild Bird Feeding Month, with the right provisions, people can enjoy a wide variety of backyard birds all year long.
The Great Backyard Bird Count, a joint project between the Cornell Lab of Ornithology and the National Audubon Society, also occurs this month. Individuals, families, schools and organizations are invited to count birds at bird feeders and in backyards, local parks or other locations. Those tallies are then reported online through the Great Backyard Bird Count web site. This data helps define bird ranges, populations, migration pathways and habitat needs.
The count is fun, easy and educational. It's also a terrific way for Cornell and Audubon to learn more about the abundance and distribution of bird species.
People can increase the variety of birds that visit their backyards by providing the appropriate foods in the right location.
Backyard birds usual fall into three feeding categories: ground-feeding, elevated feeding and a combination of both. For example, goldfinches prefer to eat Nyjer® (thistle seed) from a hanging tube feeder, whereas juncos generally eat millet on the ground, and cardinals most often feed on the ground, but will also use elevated feeders.
Stop by the store and let us show you how you can attract feathered friends to your backyard!
Your Backyard Counts!
Take Part in the Great Backyard Bird Count
February 12 - 15, 2016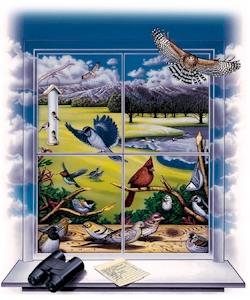 When you feed birds in your backyard, it shows that you value having a daily relationship with nature and that you are willing to take action to foster it.
Like many of us, if you have been feeding birds for a while…you probably have a reputation. Your friends, neighbors and relatives likely see you as a person who loves nature, and they value your willingness to share the joy of "your" backyard birds at a moment's notice.
Your hobby and your backyard truly count as things that are important to you.
The Great Backyard Bird Count gives you the opportunity to make them count even more than ever by participating in this annual event which links citizens with scientists in an effort to collect important data about backyard birds.
The GBBC is a joint project of Cornell Lab of Ornithology and the National Audubon Society and is sponsored by Wild Birds Unlimited. It takes place each February. Count the birds in your backyard, and then simply report the information online at http://gbbc.birdcount.org/.
Your information becomes part of an extensive data base that is analyzed by scientists to better understand important trends in bird populations, range expansions, habitat changes and shifts in migration patterns.
Make your backyard count even more for the birds when you participate in this year's GBBC. And to ensure the birds all show up to be counted, visit our store for the widest variety of great bird food products!
Great Backyard Bird Count
The Great Backyard Bird Count is a 4-day event that that takes place each February and is designed to engage bird watchers of all ages in counting birds to create a real-time snapshot of where the birds are around the world.
Everyone is welcome--from beginning bird watchers to experts. It takes as little as 15 minutes on one day, or you can count for as long as you like each day of the event. It's free, fun, and easy—and it helps the birds.
Participants tally the number of individual birds of each species they see during their count period. They enter these numbers on the GBBC website.
To learn more about the GBBC, or to enter a checklist please visit: www.birdcount.org
Join the Daily Savings Club during the Seed Sale! You will get an extra 5% over the Sale price on food items and it only takes 200 points to get $10.00!

The Benefits from the Wild Birds Unlimited Daily Savings Club
Receive 15% off regular, every day bird and wildlife food prices and an additional 5% off sale prices of bird and wildlife food at the Wild Birds Unlimited store of purchase.
Get a $10 Bird Buck for every $200 dollars you spend on any merchandise in the store.
You'll also be rewarded with a FREE gift as well as Club-member-only specials.
The annual membership fee is $25. It gives a quick return when you are doing your holiday shopping.
Gift Cards Make the Perfect Gift!


Gift Card Balance Check

A Wild Birds Unlimited Gift Card is the perfect gift for every occasion! If you need to check the balance on your Wild Birds Unlimited Gift Card,
LIKE us on Facebook