So Much to Know About Hummingbirds!
Spring is a much anticipated time for our smallest backyard-winged visitors. Hummingbirds may be the most anticipated bird to visit our yards. And why not? These littlest jewels of the backyard have some of the biggest personalities.
Hummingbirds are indeed small, weighing 1/10th of an ounce; about the weight of a penny. They also lay the world's smallest bird egg; about the size of a blueberry.
For such a little bird, hummingbirds can be very feisty and aggressive when defending their territories; which includes nectar feeders. Multiple feeders, spread throughout your yard, will encourage more hummingbirds to visit and keep bullies at bay. The more feeders you offer and the more spread out they are, the more difficult it is for a protective hummingbird to defend all the feeders. Others, like females or even juveniles, will be able to eat more often, perhaps staying longer to feed or rest at feeders.
Speaking of feeders, these little birds have big appetites. Hummingbirds eat about every ten minutes and their diet is not made up entirely of nectar. They spend more than 25% of their time foraging for small spiders and insects to obtain essential amino acids and other nutrients.
Hummingbirds use their bill and not their tongue to catch prey while they forage near the ground and in trees. They love spiders and spider eggs and keep an eye out for small flying insects like midges, fruit flies and gnats. They also check leaves and branches for leaf hoppers, aphids and even the occasional small caterpillar.
Our little hummingbirds are deceptively big on speed. They often seem to explode away from a feeder like a dragster. They typically fly at 30-45 miles per hour (48-72 kph), but can fly up to 60 mph (96 kph). They can even hover and are the only birds able to regularly fly backwards and even occasionally upside down. They can do this because of an extremely mobile shoulder joint.
Be a seasonally savvy bird feeder by installing multiple hummingbird nectar feeders around your yard to draw in these little birds with the big personalities. Visit our store and we'll help you pick out everything you need to attract hummingbirds to your backyard.
How to Choose the Best Hummingbird Feeder
Birdacious Bark Butter Bits with Hot Pepper Coming Soon....
Introducing.....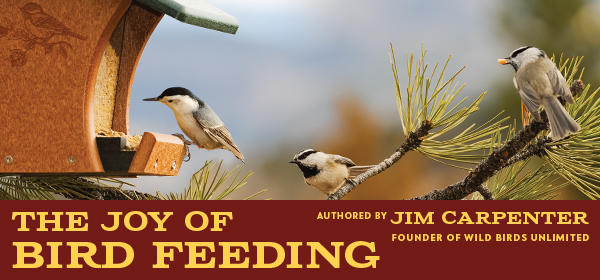 Filled with useful information and illustrated with more than 800 images and 180 maps, The Joy of Bird Feeding is the essential guide for anyone who loves to feed the birds.
In this book, Jim Carpenter, founder and president of Wild Birds Unlimited, shares a lifetime of bird feeding passion and experience, answers common hobby problems and provides fun bird feeding activities to share with family and friends.
Finicky Finches Need Nyjer
Nyjer® (thistle) attracts finches of all kinds. Its high oil content is an excellent energy source for active birds and is best used in our specially designed finch feeders. It is important to keep the food fresh for our picky little eaters. Nyjer has a thin shell and is vulnerable to spoilage while in the tube. Once seed starts to dry out and become stale, finches will turn up their beak for fresher forage. Replace Nyjer seed in feeders every three to four weeks if it is not being actively eaten. Store your Nyjer in an airtight container for a longer shelf life, and buy in quantities that will be used up in a few weeks.
We have one species of Goldfinch in Rhode Island - the American Goldfinch. It is easy to identify in the summer because of it's beautiful bright yellow plumage. In the winter it has a totally different look to it so that it blends in with the subtle colors of winter. The bird on the left in this photo is an American Goldfinch. Notice it is still sporting the black feathers on its wings and the white feather stripes we call wing bars. Also notice that there are no streaks or mottling like the bird on the right. Can you guess what it is?
Join the Daily Savings Club! You will get an extra 5% over the Sale price on food items and it only takes 200 points to get $10.00!

The Benefits from the Wild Birds Unlimited Daily Savings Club
Receive 15% off regular, every day bird and wildlife food prices and an additional 5% off sale prices of bird and wildlife food at the Wild Birds Unlimited store of purchase.
Get a $10 Bird Buck for every $200 dollars you spend on any merchandise in the store.
You'll also be rewarded with a FREE gift as well as Club-member-only specials.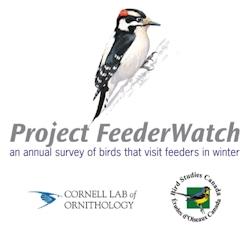 Project FeederWatch
Project FeederWatch is a joint research and education project of the Cornell Lab or Ornithology and Bird Studies Canada. From November through early April, FeederWatchers periodically count the birds they see at their feeders and send their counts to Project FeederWatch. The data collected help scientists track the movements of winter bird populations and monitor trends in bird distribution and abundance.
Wild Birds Unlimited is a proud sponsor of Project FeederWatch.
Ends April 7th and starts up in the Fall
Gift Cards Make the Perfect Gift!


Gift Card Balance Check

A Wild Birds Unlimited Gift Card is the perfect gift for every occasion! If you need to check the balance on your Wild Birds Unlimited Gift Card,
Like our local store on facebook or Twitter!