1000 Bald Hill Road Ste 3
Warwick, RI 02886
In Trader Joe's Plaza

(401) 826-0606
Serving You Today Until 6:00 pm
Monday - Friday


(check our home page to make sure)

10:00 am - 6:00 pm
Saturday
9:00 am - 6:00 pm
Sunday
11:00 am - 4:00 pm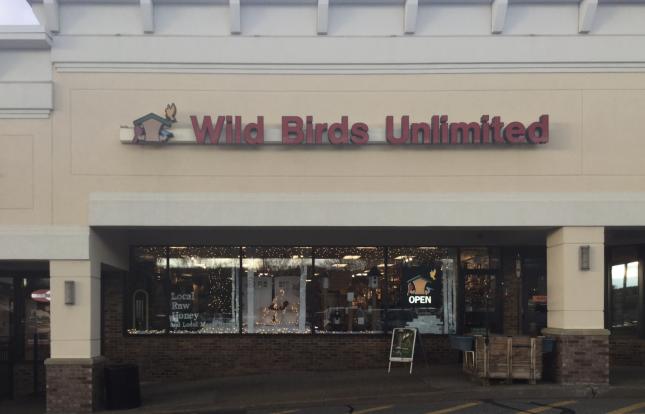 Richard and Jennifer Del Sesto Franchise Store Owners
View Our Store Site
To our Valued Customers: So that you do not take a trip here and find out we don't have something that you expect, we are keeping a running stock list for you. It is not extensive but concentrates on a few of our most popular items.
if you are looking for No-Mess LM on the MyWBU store, we are trying to fix mismatched numbers on that system so it is inactive until 3/11.
May 3rd UPDATES ON STOCK:
HARDWARE- Not in stock. We are waiting for an order. There are no complete set ups or pieces to make them. We have APS Deck kits
SEED - All back in stock including Nesting Blend
Seed Cylinders - Back in Stock including Nesting Blend
Suet Dough Cylinders are in stock
Bark Butter products all in stock
Hummingbird and Oriole Feeders - In stock
Eastern Bluebird Houses
Other Items Not available -
Some seed cylinder feeders, - waiting on back orders from the manufacturers
Suet Dough Cylinder feeders
Dinner Bells - More information to come on these feeders
Pink and Purple decorative Hummingbird feeders
9x9 hanging trays
WBU chickadee house
New items available
Books! We have restocked and enlarged our book department
New Kids books
14" plastic bird bath dish replacements in black - not sloped, which some customers have requested.Made in the US
Seed Cylinder perch feeder. A simple sturdy way to serve seed cylinders. 2lb and 4 lb sizes.
All things Alpace - the original, patented ball of nesting material.
Welcome to our Home Page.
It's May and we know your birds are extra hungry. We want to help you find the information you are looking for on our Warwick web site so we will be doing a little organization.
Wild Birds Unlimited in Warwick is following the RI guidelines for retail store safety. We are cleaning, and dissinfecting surfaces in the front and back rooms of our store for both your safety and ours.
WBU Warwick Store Update
Please limit your party shopping numbers since we can have only 4 individuals at a time
4 customers is the maximum we are able to help in the store at one time
Customers are required to wear a face mask in order to come into the store.
We are still taking phone orders for curbside pick up. Please do not wait till you are in the parking lot to call as there may be a line of customers ahead of you.
There are a few items that are not available due to back orders from manufacturers. Also some that supply parts to fix feeders under warranty
Please call ahead of time if you need a feeder fixed so we can determine if you should bring it in or wait for a call. As always, we need you to clean your feeder throughly before bringing it in.(We are still waiting for some very important pieces to fix a couple of our best selling feeders)
From everyone at Wild Birds Unlimited we urge you to stay safe and respect social distancing guidelines.
Thank you from the staff of Wild Birds Unlimited in Warwick.
---