Finicky Finches Need Nyjer
Nyjer® (thistle) attracts finches of all kinds. Its high oil content is an excellent energy source for active birds and is best used in our specially designed finch feeders. It is important to keep the food fresh for our picky little eaters. Nyjer has a thin shell and is vulnerable to spoilage while in the tube. Once seed starts to dry out and become stale, finches will turn up their beak for fresher forage. Replace Nyjer seed in feeders every three to four weeks if it is not being actively eaten. Store your Nyjer in an airtight container for a longer shelf life, and buy in quantities that will be used up in a few weeks.
We have one species of Goldfinch in Rhode Island - the American Goldfinch. It is easy to identify in the summer because of it's beautiful bright yellow plumage. In the winter it has a totally different look to it so that it blends in with the subtle colors of winter. The bird on the left in this photo is an American Goldfinch. Notice it is still sporting the black feathers on its wings and the white feather stripes we call wing bars. Also notice that there are no streaks or mottling like the bird on the right. Can you guess what it is?
Congratulations to Patricia L. the Winner of our "Guess How Many Pounds of Seed are in the Can" Contest.
There were 42 lbs and 12 oz. in the can!
Five people were equally 4 oz. away from the correct weight. One entry was drawn from a shuffle to determine the winner. How far off was your guess? Patricia gets the seed and the metal can for storage. Thanks to all or participants!

Your Backyard Counts!
Take Part in the Great Backyard Bird Count: February 17th - 20th
When you feed birds in your backyard, it shows that you value having a daily relationship with nature and that you are willing to take action to foster it.
Like many of us, if you have been feeding birds for a while…you probably have a reputation. Your friends, neighbors and relatives likely see you as a person who loves nature, and they value your willingness to share the enjoyment of "your" backyard birds at a moment's notice.
Your hobby and your backyard truly count as things that bring you joy and are important to you.
The Great Backyard Bird Count gives you the opportunity to make them count even more than ever by participating in this annual event which links citizens with scientists in an effort to collect important data about backyard birds.
The GBBC is a joint project of Cornell Lab of Ornithology and the National Audubon Society and is sponsored by Wild Birds Unlimited. It takes place each February. Count the birds in your backyard, and then simply report the information online at http://gbbc.birdcount.org/.
Your information becomes part of an extensive data base that is analyzed by scientists to better understand important trends in bird populations, range expansions, habitat changes and shifts in migration patterns.
Make your backyard count even more for the birds when you participate in this year's GBBC. And to ensure the birds all show up to be counted, visit our store for the widest variety of great bird food products!
Join the Daily Savings Club! You will get an extra 5% over the Sale price on food items and it only takes 200 points to get $10.00!

The Benefits from the Wild Birds Unlimited Daily Savings Club
Receive 15% off regular, every day bird and wildlife food prices and an additional 5% off sale prices of bird and wildlife food at the Wild Birds Unlimited store of purchase.
Get a $10 Bird Buck for every $200 dollars you spend on any merchandise in the store.
You'll also be rewarded with a FREE gift as well as Club-member-only specials.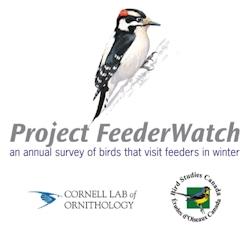 Project FeederWatch
Project FeederWatch is a joint research and education project of the Cornell Lab or Ornithology and Bird Studies Canada. From November through early April, FeederWatchers periodically count the birds they see at their feeders and send their counts to Project FeederWatch. The data collected help scientists track the movements of winter bird populations and monitor trends in bird distribution and abundance.
Wild Birds Unlimited is a proud sponsor of Project FeederWatch.
Gift Cards Make the Perfect Gift!


Gift Card Balance Check

A Wild Birds Unlimited Gift Card is the perfect gift for every occasion! If you need to check the balance on your Wild Birds Unlimited Gift Card,
Like our local store on facebook or Twitter!