Now Hiring!
Wild Birds Unlimited is currently seeking part time Sales Associates. For further details please click here.
Young Bird Fledglings Experience Life Away from the Nest
This summer, parents across the country will spend countless hours with their children, taking them to places they've never seen before. The same can be said for the millions of wild bird families that will be introducing their young fledglings to a whole new world of experiences.
People who only feed the birds during the winter miss out on many fun and fascinating wild bird "family" activities. By mid-spring and throughout much of the summer, fledglings leave the nest and continue to be fed by their parents, while also being taught to eat from feeders. Watching this fun and fascinating activity is one of the true payoffs of the bird feeding hobby.
Here are some characteristics and behaviors to look for when watching these fledgling birds as they begin to leave the nest:
Fledglings are about the same size as adults, but often their plumage color is muted and similar to adult females.
In some species, fledglings' tails are shorter than the adults', because the tail feathers are still growing. A recent research study demonstrated that supplemental bird feeding provides a direct nutritional benefit that supports higher-quality feather growth for birds like these fledglings.
You can recognize Downy and other woodpecker fledglings by their fresh and dapper plumage, whereas that of the adults is worn and dusky from their repeated trips in and out of the nest hole.
Chickadee fledglings follow their parents to the bird feeder and perch nearby as the parents go to get food. They either wait, looking like they are waiting to be served, or they call incessantly "teeship teeship" and flutter their wings until fed.
After one to three weeks, the parents stop feeding their fledglings and may even peck at them if they persist in begging for food.
Some foods are better than others for new fledglings. Insects are highly favored, so mealworms are attractive to parents feeding young. Jim's Birdacious® Bark Butter® and Bark Butter Bits are also excellent as they are highly nutritious, easily carried, and easily swallowed.
It's a perfect time to be seasonally savvy with your bird foods. Stop by the store and we'll help you pick out the the high protein and high fat foods that will help to get your neighborhood fledglings off to a strong start.
How to Choose the Best Hummingbird Feeder
Birdacious Bark Butter Bits with Hot Pepper Coming Soon....
Introducing.....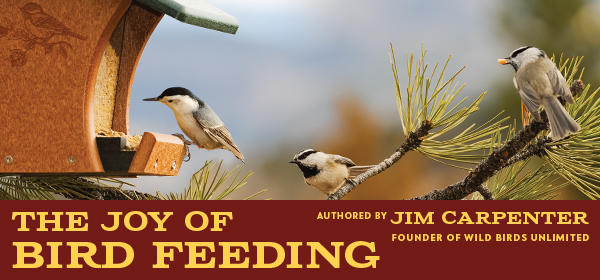 Filled with useful information and illustrated with more than 800 images and 180 maps, The Joy of Bird Feeding is the essential guide for anyone who loves to feed the birds.
In this book, Jim Carpenter, founder and president of Wild Birds Unlimited, shares a lifetime of bird feeding passion and experience, answers common hobby problems and provides fun bird feeding activities to share with family and friends.
Join the Daily Savings Club! You will get an extra 5% over the Sale price on food items and it only takes 200 points to get $10.00!

The Benefits from the Wild Birds Unlimited Daily Savings Club
Receive 15% off regular, every day bird and wildlife food prices and an additional 5% off sale prices of bird and wildlife food at the Wild Birds Unlimited store of purchase.
Get a $10 Bird Buck for every $200 dollars you spend on any merchandise in the store.
You'll also be rewarded with a FREE gift as well as Club-member-only specials.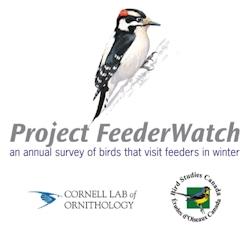 Project FeederWatch
Project FeederWatch is a joint research and education project of the Cornell Lab or Ornithology and Bird Studies Canada. From November through early April, FeederWatchers periodically count the birds they see at their feeders and send their counts to Project FeederWatch. The data collected help scientists track the movements of winter bird populations and monitor trends in bird distribution and abundance.
Wild Birds Unlimited is a proud sponsor of Project FeederWatch.
Ends April 7th and starts up in the Fall
Gift Cards Make the Perfect Gift!


Gift Card Balance Check

A Wild Birds Unlimited Gift Card is the perfect gift for every occasion! If you need to check the balance on your Wild Birds Unlimited Gift Card,
Like our local store on facebook or Twitter!