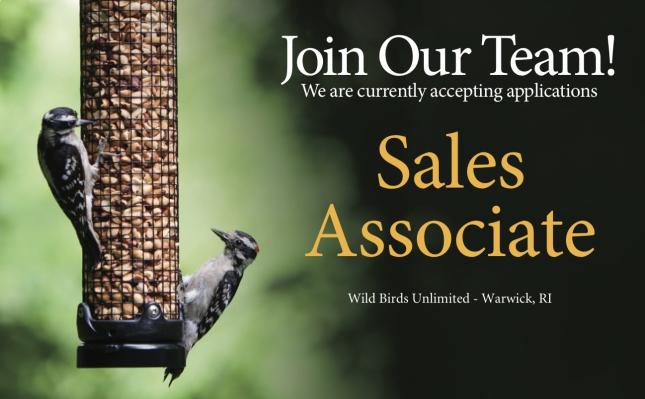 Are you or someone you know our next great employee?
We are always looking for good people
Wild Birds Unlimited Sales Associate
We are currently accepting applications for part-time and/or full time Sales Associates. If you love working with people and possess high energy and enthusiasm, this opportunity might be perfect for you. Below you will find a link to a form and the job description further down. Please, scan and email, mail or drop off your Application.
Applicants will be called back for interviews. We do not do "on-the-spot" interviews.
Thank you and we look forward to hearing from you!
Job Description: Sales Associate
Overview
The position of Sales Associate can be either a part-time or full-time position that reports to the franchise owner or manager. The primary responsibility of a Sales Associate is to provide a high energy customer experience.
Selling / Customer Experience
•Understands that the high energy customer experience is the #1 priority.
•Completes each OWL module as part of the High Energy Training in order to deliver the WBU high energy customer experience as the trusted local expert.
•Uses successful selling skills to satisfy the customer and complete the sale.
•Has read, understood and follows the Employee Handbook including the WBU Ten Touch Points training.
•Follows the best practices of the Person in Charge of the Customer experience.
•Wears the logo apparel while working on the sales floor.
Merchandising
•Has read and understood the Product Information Handbook and has successfully completed the Certified Birdfeeding Specialist Program.
•Understands and communicates the store's merchandise and target products to the customer.
•Completes the changing of displays, signing and the restocking of merchandise as directed by management.
Personnel Management
•Demonstrates a positive, enthusiastic and professional demeanor.
•Attends store meetings as required.
•Completes any other duties as assigned.
Administrative Control
•Adheres to all store policies and procedures regarding the ringing of all transactions, any administrative duties and scheduling.
•Completes accurate and legible paperwork.
Loss Prevention
•Adheres to all store policies and procedures regarding personal and store security.
•Communicates security concerns to management.
Store Maintenance
•Maintains good housekeeping standards to help present a clean and well
presented store.
•Helps keep store and backroom clean & organized.